Global Security and Disarmament Agenda at Crossroads: A Fragmented World or a Cohesive Future
Join us and The Columbia University Club Foundation, the United Nations Association of New York, and the Columbia University Club of New York as we host the Columbia University Club Foundation Ambassador Series talk on Monday, November 14th at the Penn Club.
Our guest speaker will be Izumi Nakamitsu, UN Under-Secretary-General and High Representative for Disarmament Affairs.
Following four weeks of intense discussions at UN Headquarters in New York, the Tenth Review Conference of the Parties to the Treaty on the Non-Proliferation of Nuclear Weapons (NPT) ended late on Friday, August 26 without an outcome document, as Russia objected to text about its control over Ukrainian nuclear facilities.
UN Secretary-General António Guterres expressed disappointment that countries were unable to reach consensus on a "substantive outcome," and to capitalize on the opportunity to strengthen the 52-year-old treaty and advance its goals.
The NPT, which entered into force in March 1970, is the only binding commitment to the goal of disarmament by States which officially stockpile nuclear weapons. It is organized around three pillars — disarmament, non-proliferation, and the peaceful uses of nuclear energy — and 191 countries have joined the Treaty. Review conferences are held every five years. The 2015 session also ended without an outcome document, while the 2020 Conference was postponed due to the recent pandemic.
UN High Representative for Disarmament Affairs, Izumi Nakamitsu, was also disappointed at the outcome. "The final draft was, of course, not a perfect document. We all knew that. But the vast majority of States parties felt that it will still be in the interest of the international community," she said. "Our challenge now is to make sure that we will start from here and redouble our efforts to make sure that the efforts towards nuclear disarmament will, in fact, be reinvigorated."
Ms. Nakamitsu emphasizes that even without a consensus outcome, the NPT will not collapse or suffer immediate damage. However, she says, "we have to make sure that there will be serious and substantive engagements between nuclear weapon States and non-nuclear weapon States, and of course, very importantly, amongst nuclear weapons States themselves as well."
We hope you will join us for our first live, post-pandemic in-person event at the Penn Club, when we will gather to hear Ms. Nakamitsu share her perspectives on the future possibilites ahead for achieving success in securing an effective global disarmament agreement.
Agenda
5:45 p.m. | Registration
6:00 to 7:00 p.m. | Presentation with Q+A
7:00 to 7:30 p.m. | Reception
Cost: $15  (Limit 2 Tickets Per Transaction)


Izumi Nakamitsu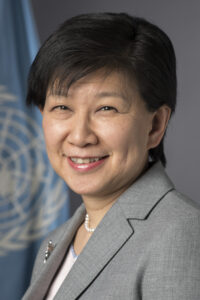 Ms. Izumi Nakamitsu assumed her position as Under-Secretary-General and High Representative for Disarmament Affairs on 1 May 2017. Prior to taking on this post, Ms. Nakamitsu served as Assistant Administrator of the Crisis Response Unit at the United Nations Development Programme (UNDP) since 2014.
She has many years of experience within and outside the United Nations system, most recently as Special Adviser Ad Interim on Follow-up to the Summit on Addressing Large Movements of Refugees and Migrants between 2016 and 2017. She was previously Director of the Asia and the Middle East Division of the United Nations Department of Peacekeeping Operations between 2012 and 2014, and Director of the Department's Division of Policy, Evaluation and Training, from 2008 to 2012.
Between 2005 and 2008, Ms. Nakamitsu was Professor of International Relations at Hitotsubashi University in Tokyo, where she also served as a member of the Foreign Exchange Council to Japan's Foreign Minister, and as a visiting senior adviser on peacebuilding at the Japan International Cooperation Agency. Between 1998 and 2004, she was the Chef de Cabinet and Director of Planning and Coordination at the International Institute for Democracy and Electoral Assistance, based in Stockholm, Sweden.
Earlier in her career, Ms. Nakamitsu was a member of the United Nations Reform Team of former Secretary-General Kofi Annan. She also held positions with the Office of the United Nations High Commissioner for Refugees (UNHCR), including within the office of Assistant High Commissioner for Policy and Operations Sergio Vieira de Mello, and in UNHCR field operations in the former Yugoslavia, Turkey and northern Iraq.
Born in 1963, Ms. Nakamitsu holds a Master of Science degree in Foreign Service from Georgetown University in Washington, D.C., and a Bachelor of Law degree from Waseda University in Tokyo.
She is married and has two daughters.