Please join us for our 1st Annual Summer Beach & Boat Soiree!
Our adventure begins at 5:45PM on Thursday, July 27th for the Boat Party portion of our journey. 
"CU There" Boat Party
We will be taking launch boats to The Honorable William Wall, which is the floating clubhouse of the Manhattan Yacht Club.
The Clubhouse is anchored in New York Harbor just north of Ellis Island and offers incredible views of the NYC skyline, the statue of liberty and the active sailboat races in the harbor.
We have a reserved spot on the upper deck bar, so we will have our own area to enjoy.
Launches start at 5:45PM from NYC and Jersey City, but they are all already SOLD OUT until 6:45PM, so Buy Your Ticket NOW!
Launch locations and times are below.
Please buy your ticket now for the launch boat spots as they are selling out quickly! Click HERE to reserve your roundtrip ticket.

Watch this video to learn more: 
Beach Bar Soiree 
Join us from 7PM - 10PM at Surfcity in Jersey City, NJ for our land event.  
We have reserved tables next to the "Water Bar" and the sun will set at 8:16PM, so it's going to be a beautiful scene.  

If you join us on the William Wall, a launch boat will take us directly to the Surfcity dock.   
We will be ordering lots of yummy Seafood for us to share and there will be a cash bar.
Don't delay, buy your tickets NOW!
Directions to the Honorable William Wall:
From Manhattan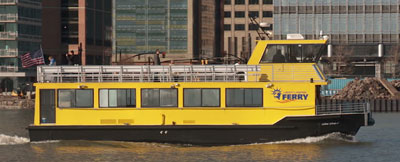 Guests ride the yellow "Little Lady" ferry which departs from the WFC Ferry Terminal (Vesey Street and the Hudson River).
Arrive at least 5 minutes early and check in with the HWW Representative

They will be standing inside Ferry Terminal, near Slip #2
They will be wearing white shirt w/epaulets on the shoulder
Show them your ticket and they will give you a ferry pass.
Disembark the ferry at Warren Street (first stop)
Walk up ramp to street level and wait 2 minutes until Admiral's Launch arrives
Board Admiral's Launch which will bring you to the Clubhouse.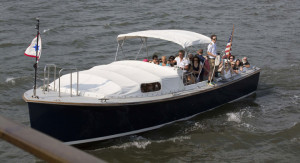 From Jersey City
Admiral's Launch departs from Surf City Restaurant at 1 Marin Boulevard
Arrive at your reserved launch time 
Go to the floating docks in front of restaurant and wait at the top of the ramp.
When Admiral's Launch arrives, walk down the dock and boar.
Please Note: Boats are on a schedule. If you miss your reserved time, we will try and get you on the next launch but spaces go first to guests with reserved tickets for that launch (don't worry, it almost always works out fine).